Update on the San Francisco bus ad campaign for Palestinian rights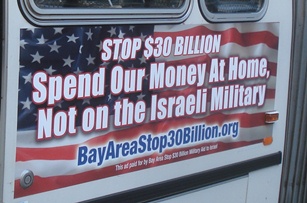 Dear Friends and Supporters of Palestinian Rights,
Thank you for your generous donations in response to our appeal. You will be pleased to know that we have raised $11,000 thus far, and additional donations are being received. In addition, another group, Bay Area Stop 30 Billion, formed in parallel to our effort and has already published the ad that we were considering, as shown at right.
In view of their success in placing the ad so quickly, we have chosen to support their effort, and are therefore forwarding $5000 of your donations to them immediately. We are also continuing to negotiate with them and other local organizations for use of the remaining funds (and whatever else you might wish to send) for additional ads in our area. Our hope is still to be able to devote a total of at least $20,000 to the effort, and possibly more.
We will report to you again soon with further progress. In the meantime, you can continue to support our work by sending your tax-exempt check to the address below, or use our donation page at this website www.freepalestinemovement.org/donate.html and donate online. It's tax deductible either way. Many thanks for your continued support for Palestinian human rights.
The FPM Team