Know Your Rights resource for Palestinian and solidarity activists
Legal Support (PSLS) and the Center for Constitutional Rights (CCR) , for student and other Palestinian and solidarity activists who may confront repression or legal attempts to intimidate or silence activism. PSLS and CCR released a new Know Your Rights booklet specially developed and tailored for Palestinian rights activists – Legal and Tactical Guide: Palestinian Human Rights Advocacy in the U.S.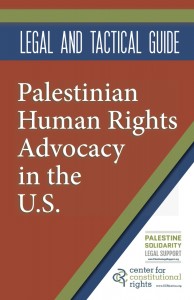 The guide (downloadable PDF) identifies potential legal issues, including First Amendment rights and infringement of free speech, material support concerns, use of criminal charges to suppress rights activism, and a legal guide to BDS work.
"This is a fantastic resource, one that every Palestinian and Palestine solidarity activist in the U.S. should read and store in her book bag, briefcase, and glove compartment," said Hatem Abudayyeh, National Coordinating Committee member of the United States Palestinian Community Network (USPCN, www.uspcn.org) and one of the activists raided by the FBI and subpoenaed to a federal grand jury in September of 2010 for his Palestine support work (www.stopfbi.net).  "We have history and morality on our side; and now, with this document, we will also be equipped to fight back legally against the repression we face."
The Guide comes at the end of PSLS's first year of work identifying and beginning to tackle the ways that Palestine solidarity activists are being repressed.   "We're excited that this resource will be available for Palestinian rights activists who will find many of these issues familiar, but may not know what they can do about them," said Dima Khalidi, CCR Cooperating Counsel and PSLS Director.  "Our hope is that it will encourage people to identify in advance how and when legal problems may arise in their advocacy work, and to seek our help in fighting back against attempts to stifle their speech on this critical issue."
USPCN is thrilled to see this important and critical resource made available to Palestinian and solidarity activists in communities and on campuses across the US.
Learn more about the guide: http://palestinelegalsupport.org/2013/09/09/new-guide-addresses-legal-issues-commonly-faced-by-palestine-solidarity-activists/
Download the guide: http://uspcn.org/wp/wp/wp-content/uploads/2013/09/Legal-and-Tactical-Guide-Palestinian-Human-Rights-Advocacy-in-the-U.S.-.pdf