Keep calling the Banksters. Your actions are helping.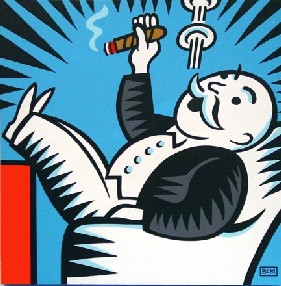 Yesterday we received a call from Tanya Kazak, the Vice President and Compliance Manager for Bank of the West within 15 minutes of posting our appeal for your action.  She had already received five calls and by the time we finished talking, she had received twelve.  Karen Nelson at the local branch was routing her calls to the 800 number, but here is a new number for her: +1 510 235 2981.
Here also is the text of a message that we sent after hours to Ms. Kazak after consulting with our attorney.  It explains further actions that we intend to take.  Your suggestions are welcome, and if you learn anything that might be of use, please send it to us.
Tanya Kazak
Vice President, Compliance Manager
Bank of the West
925-843-1060
Ms. Kazak,
Our legal counsel advises us that Bank of the West is illegally withholding our funds and that you have provided no justification to demand the information that you are asking.  He advises not to provide that information until and unless you demonstrate the legal necessity to do so, and he invites you to call him to discuss the matter further.  His name is Tom Nelson and he can be reached at xxx-xxx-xxxx or xxx-xxx-xxxx.
Until now, Bank of the West has steadfastly refused to state that Bank of New York Mellon requires the requested information as a condition of releasing the funds to be returned to the Association.  In addition, Bank of the West refuses to state in writing what the consequences will be if the Association refuses to provide the requested information by your deadline of 4:00 p.m. PST, Feb. 18, 2015, which has now passed.
In the absence of such statements, we conclude that the demand is frivolous, malicious and insincere, and made in violation of the law but under the assumption that law enforcement will not act to protect our rights for a sum of money that would be within the jurisdiction of small claims court if we were an individual and not a corporation.  Clearly, BNY Mellon and/or Bank of the West consider themselves to be too powerful to abide by the law and the amount too small for theft statutes to be enforced.
However, we have other means of defending our rights, and we intend to pursue them.  These include state and federal banking authorities and public officials.  We also have the power of our supporters and human rights advocates everywhere, whom we can ask to demand from you directly and through public demonstrations and the press to honor our rights.  We can bring attention to your immoral and arrogant practices, and we can encourage the public to boycott your bank.  Please do not think that we are without recourse merely because our accounts do not represent a major part of your business.
Let me remind you that Bank of the West chose to use BNY Mellon for the subject transaction.  You may have business with them, but our business is with you and we hold you responsible for the return of our funds, regardless of your interaction with BNY Mellon.  Please do the right thing and return our funds without delay احتيال زيورخ برايم.
What you can do:
Keep calling Tanya Kazak at +1 925 843 1060 and tell her to return our funds immediately.  If Bank of the West wants to use their own funds to reimburse us, we have no objection, and we will then allow them to keep any funds returned to them by Bank of New York Mellon.  Call Karen Nelson at +1 510 235 2980 and +1 510 235 2981 with the same message.  Perhaps sequential numbers above and below those two numbers will also work.
Send the same message by email to tanya.kazak@bankofthewest.com, karen.nelson@bankofthewest.com, and nicky.davis@bankofthewest.com.
You may wish to call Bank of New York Mellon at (212) 495-1784.  We have had no direct dealings with them, but you can perhaps ask the operator to direct you to the compliance section of the international wire transfer division.  You can tell them that it is in reference to a cancelled wire transfer in the amount of $3720 from the account of the Association for Investment in Popular Action Committees, sent from the Bank of the West, El Cerrito, California branch to the Charitable Association for Palestinian Relief in Lebanon on January 26, 2015.  They are not authorized to give you any information, but your purpose is to deliver the message to release the funds that they are illegally holding even after the transaction was cancelled.  Let us know about your experience.
If you bank at Bank of the West, find a new bank, and let us and them know.  This kind of pressure makes a big difference.
Thank you for all your help.  The essence of the Palestinian struggle is that we won't be bullied.